Strachan Consulting has been consulting to organizations for over 20 years. Our aim is to develop a collaborative partnership with the individual leaders and teams that make the organization hum.
Whether we are intervening at the individual, team or organizational level, we take you through three steps, illustrated in the accompanying triangle.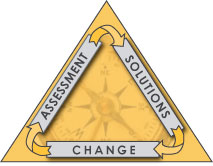 We conduct a thorough assessment. This may include interviews with key staff, surveys of your employees or constituents, meetings with management, and other assessments of your operations.


We recommend focused solutions. These may include interventions at the individual, team and/or organizational level.


We develop practical change strategies. Examples include reorganizing your management structure, changing policies, process improvement, training for employees, management development, and changes in your selection process.
Reassessment enables the organization to learn from its mistakes and successes, and facilitates continuous improvement.
To find out more about the professionals ready to partner with you, click here.